Spotlight on
Organic ROSEHIPS
*Rich in antioxidants, specifically ployphenols, carotenoids, vitamin C and E. Supports
healthy immune system

– stimulates production of white blood cells. Reduces inflammation and pain.

Rosehips are an ingredient in many of our teas – Immunity Infusion Adaptogenesis Tea, Victoria Falls Black Tea, Cherries & Berries Herbal & others.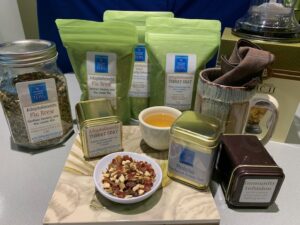 Our Immunity Infusion and Matcha green tea, as well as Pau d'Arco and Organic Elderberries are all great teas for warding off viral and bacterial infections. Flu Brew (with elder flower and elderberries) and Throat Coat are great ones to have on the shelf for early intervention. Try them all!
Cottage Garden Teas is OPEN at our store in The Mall at Wellington Green. Our new hours, for now: 11am-7pm Mon – Sat, and Noon-6pm on Sunday. The Mall has sanitizing stations for your use – located throughout the mall, including right outside our store. IF YOU ARE UNCOMFORTABLE COMING TO THE MALL, please call us at (561) 727-8772 and we will arrange another option. DON'T GO WITHOUT YOUR TEA! 10300 Forest Hill Blvd, Wellington. Lower lever near the glass elevators.
SIGN UP FOR THE 3-SAMPLE CLUB! It's a great way to try new teas you haven't tried. Here's how it works…
Each month, on the 15th, we send you by mail, three small samples of tea (our choice) – enough for a couple cups. It's $5 each month charged to your card when we ship – or pre-paid for 6 months (PREFERRED!). You can opt out whenever you wish. Call us to sign up! 561.727-8772
WHAT ARE OUR CUSTOMERS SAYING?
"Love the organic Elderberry tea!! It has its own subtle sweetness! Delicious!!! My Grandmother drank elderberry tea & lived a long healthy life of 98 yrs. I remember collecting blossoms with her." Sherry
Got some wonderful tea delivered to my door this morning…be kind to yourself and enjoy tea in the afternoons…with some wonderful Bible reading….ahhh it soothes the soul. Geni L.

My mom has been drinking 1-2 cups of Arthritis Tea and tells me her knees, thumbs and hips have stopped hurting! Thanks for all you do with tea. – TK
I cannot tell you how glad I was to see you at Japan Fest in Atlanta
last month! I am loving my new teapot & cups and my new teas. The Adaptogenesis arthritis blend is a godsend! My youngest two year-old children are now fans as well, thanks to the Cozy Comfort and Florida Lavender Sage. Your teas are the BEST!!!
Miriam P
What a wonderful experience I had in Cottage Garden Teas at Wellington Green Mall. So friendly and knowledgeable, they really took their time educating me about their organic teas. I suffer from a G.I. disease, and was searching for something to help with my nausea, bloating, digestion etc… Immunity Infusion & Good Digestion Tea were recommend & I just fell in love with how fresh & tasty they were. They have both helped me so much with my symptoms and I can't thank them enough! I intend to keep purchasing more teas from Cottage Garden. I cannot wait to try their fresh chamomile tea and more of their rosehip tea. Thank you so much! Highly recommend stopping in to see their huge selection. Kara O.
I buy tea from you at the green market and was recently in your store at the mall. A very nice young lady recommended this tea to me and OMG it's so good…I make a creamy salted caramel tea-latte from it…yummy! Thanks!
Just called to say I love the way you do business! You're my tea people from now on. I was pleasantly surprised to get my tea the next day – it made my day, actually. –Steve V (Ft Pierce, FL)
Hey guys! You all are the best and I have fallen in love with your tea. Thank you for sharing in this passion for teas with me! -Nan (FL)
My wife picked up the
Green Turtle Key
(Rooibos) @ West Palm Beach Farmer's Market when we visited her aunt back in February. Trying a few new ones this time plus a re-stock.–Ed (PA)