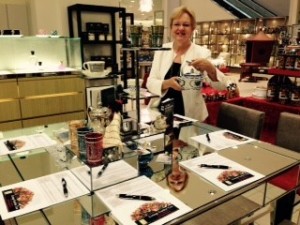 Here's Joanne at the TEA PAIRING with CREED fragrances at SAKS 5th Ave in Palm Beach Gardens in December.
Coming in February . . .
a ChocolaTEA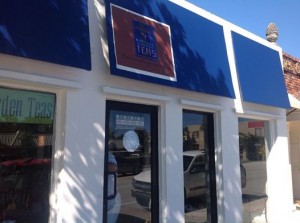 event on Antique Row.
Join us for our first Tea Pairing with Chocolate  February 4th at 6:30 pm.  Ten dollars reserves your spot, and includes a sampler from the event.   Limited seating.
Call to register: 561.797.6263   
3715 S. Dixie Hwy, West Palm Beach FL
Open 11AM till 5PM, TUES thru SAT
Cottage Garden Teas' tea shop is nestled in the newly renovated showroom of Amity Design Studios, in West Palm Beach, Florida. We're showing off our finest aged global teas and freshest summer harvests of black, green, oolong, white, and herbal loose leaf teas. Our new location boasts mid-century furnishings for viewing and purchase, and wonderful teas with a sweet or savory morsel to accompany your viewing pleasure. We have chocolates from a local chocolatier to pair with your cuppa, and our newest teas like the Kenya Chai and Handcrafted Tea Stars are featured.  Lots of new teapots and accessories, books, tea aprons and more.
C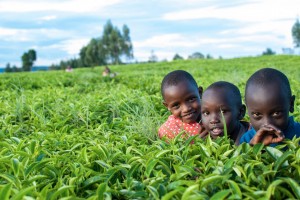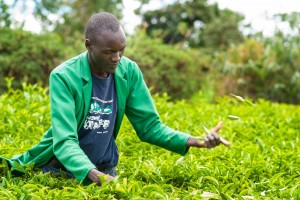 HECK OUT OUR NEWEST TEAS FROM KENYA!
 This is Evans and his family, a small tea farmer in Kenya.    Cottage Garden Teas is participating in a program that purchases the tea directly from this farmer, allowing him to make 2 1/2 times as much as other tea farmers in Kenya.  They have been trapped in a cycle of poverty that our program solves. Buying direct from the farmer makes his wage sustainable. We asked him, "what will you do with the money?" He said, "send my daughters to school." His wife said, "build a house with indoor plumbing." Cottage Garden is so excited to be selling Kenyan farmer-direct tea. AND IT'S DELICIOUS.
We have an amazing oolong, & Kenyan Chai.
WATCH A VIDEO OF THE FARMERS HERE: https://www.youtube.com/watch?v=wxYqF4MDa8E