Our newest retail outlet!
The Harrisville Inn Bed & BreakfastHarrisville, New Hampshire
The new 2019 teas are in!
We're SO excited about these new exquisite teas coming directly from the tea farm in China.

This is the only area where authentic Dragonwell green tea is grown. Cottage Garden Teas is privileged to have a limited amount of tea from this farm. Watch the video as one leaf and one bud of the tea bush is picked by hand.
WHAT ARE OUR CUSTOMERS SAYING?
What a wonderful experience I had in Cottage Garden Teas at Wellington Green Mall. So friendly and knowledgeable, they really took their time educating me about their organic teas. I suffer from a G.I. disease, and was searching for something to help with my nausea, bloating, digestion etc… Immunity Infusion & Good Digestion Tea were recommend & I just fell in love with how fresh & tasty they were. They have both helped me so much with my symptoms and I can't thank them enough! I intend to keep purchasing more teas from Cottage Garden. I cannot wait to try their fresh chamomile tea and more of their rosehip tea. Thank you so much! Highly recommend stopping in to see their huge selection. Kara O.
I buy tea from you at the green market and was recently in your store at the mall. A very nice young lady recommended this tea to me and OMG it's so good…I make a creamy salted caramel tea-latte from it…yummy! Thanks!
Just called to say I love the way you do business! You're my tea people from now on. I was pleasantly surprised to get my tea the next day – it made my day, actually. Have a Merry Christmas! –Steve V (Ft Pierce, FL)
Hey guys! You all are the best and I have fallen in love with your tea. Thank you for sharing in this passion for teas with me! -Nan (FL)
My wife picked up the
Green Turtle Key
(Rooibos) @ West Palm Beach Farmer's Market when we visited her aunt back in February. Trying a few new ones this time plus a re-stock.–Ed (PA)
Largest variety of any loose tea purveyors i have found. The green mkt is a perfect venue for Cottage Garden Teas to showcase their many products, and they even give out free samples. The chocolate mint and the almond cookie are two of my favorites, but i currently have at least a dozen different varieties on hand and look forward to see what's new whenever I go to the
Sunday
market. Impeccable customer service rarely seen in modern day businesses. Thank you for your wonderful teas! -Palm Beach Gardens customer
"I received my new order today and wanted to thank you for including a sample of a new tea. Having spent most of my life in sales, I can tell you that this is the best way to promote new business. Should you ever have need for a customer to give a glowing testimonial, I would be happy to do so as I have been doing business with you now for several years and your product is great – and your service is even better." -Arnold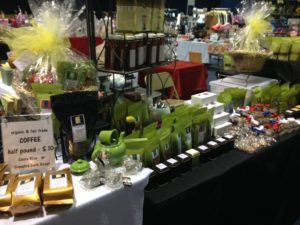 "I opened my Indian River Lemon this week and it is as beautiful as the Cozy Comfort, thank you!" -Melissa
"I will never go back to store bought tea bags again! Cottage Gardens Teas are delicious and Carolyn and Joanne are lovely people." -Carol